Rabbit God Lucky Bag Trio ( HK ONLY 3/28-4/5)

In Chinese folklore, there was a beautiful lady named the Moon Goddess, who lived on the moon. Amidst the turmoil of a widespread epidemic, she sent her rabbit to the Earth to cure the people. However, as the rabbit was white, which represented death in Chinese culture, he was not well received. Thus, he went to a temple and donned saintly robes. Upon this masquerade, the people revered him as a patron saint - The guardian of health.

The Rabbit God is often depicted riding on different animals, each of which carries their own meaning. For instance, a tiger offers a blessing of protection, while an elephant stands for wealth, and the mythical hybrid known as a Kirin brings good prospects on study and career.
You will get this package of three rabbit gods with ONLY HKD 378(  Originally HKD 621 ).  HKD 243 SAVED!  40% off! 
Each figurine comes as a random selection from different possible colour and patterned schemes, you will get one of each shown design.
They are all individually handmade by the folk artist we work with for years. 
We hope they will bring more health and safety to people we love and care at this special time.  
Due to the recent increase of international delivery uncertainty, we offer this package to Hong Kong delivery address only for now. We will see how things go. If things go more smoother and easier, we will try to apply it to customers in other countries as well. Please stay tuned on FB or IG.
All the orders will be posted between 6th and 13th April.
Visit the following pages, you will see more details and photos of these three types of rabbit gods.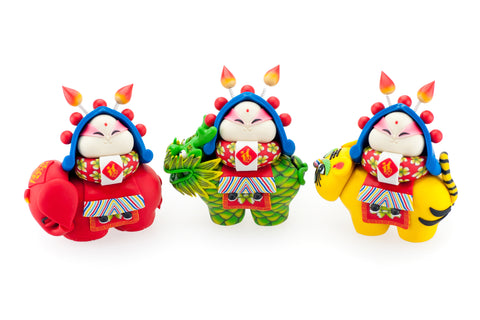 –  96mm x 84mm x 50mm 
–  140g* Each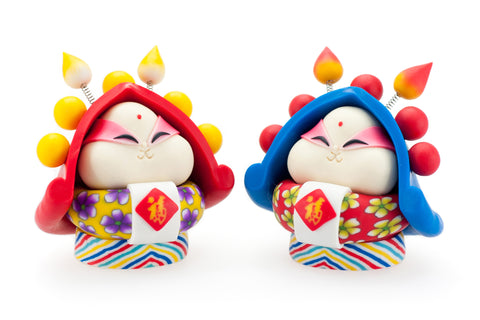 –  85mm x 67mm x 57mm
–  110g* Each
Rabbit God Mini
No Product page available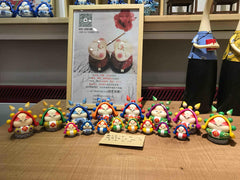 *Small one in the picture
–36mm*30mm*32mm
-30g* Each
* All our products are exquisitely handmade, one piece at a time, therefore each one is unique.
The images, descriptions and measurements you will find on our site have been used to most accurately and portray the products we sell. We must advise that although we try our utmost to remain completely honest, the slight variation in appearance and dimension of our products means that they are never identical, this is an inherent feature due to its handmade properties. Hence, the unique nature of each individual product.
If you do have any questions or queries regarding this please feel free to get in touch with us via hello@soulartshop.com ,  Facebook: Soul Art Shop or Instagram: @soulartshop